Unsteady effects in axial turbine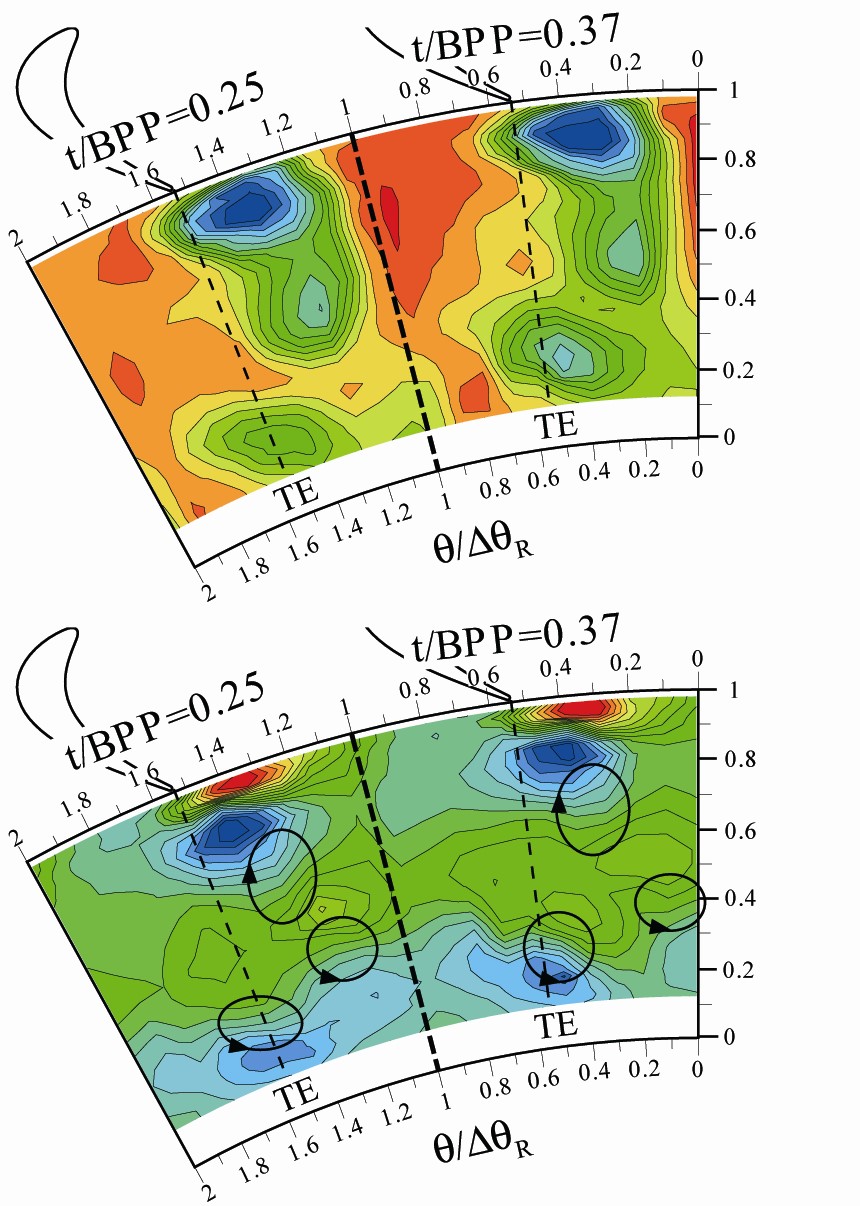 Snapshots of relative total pressure and deviation angle at rotor exit for two axial gaps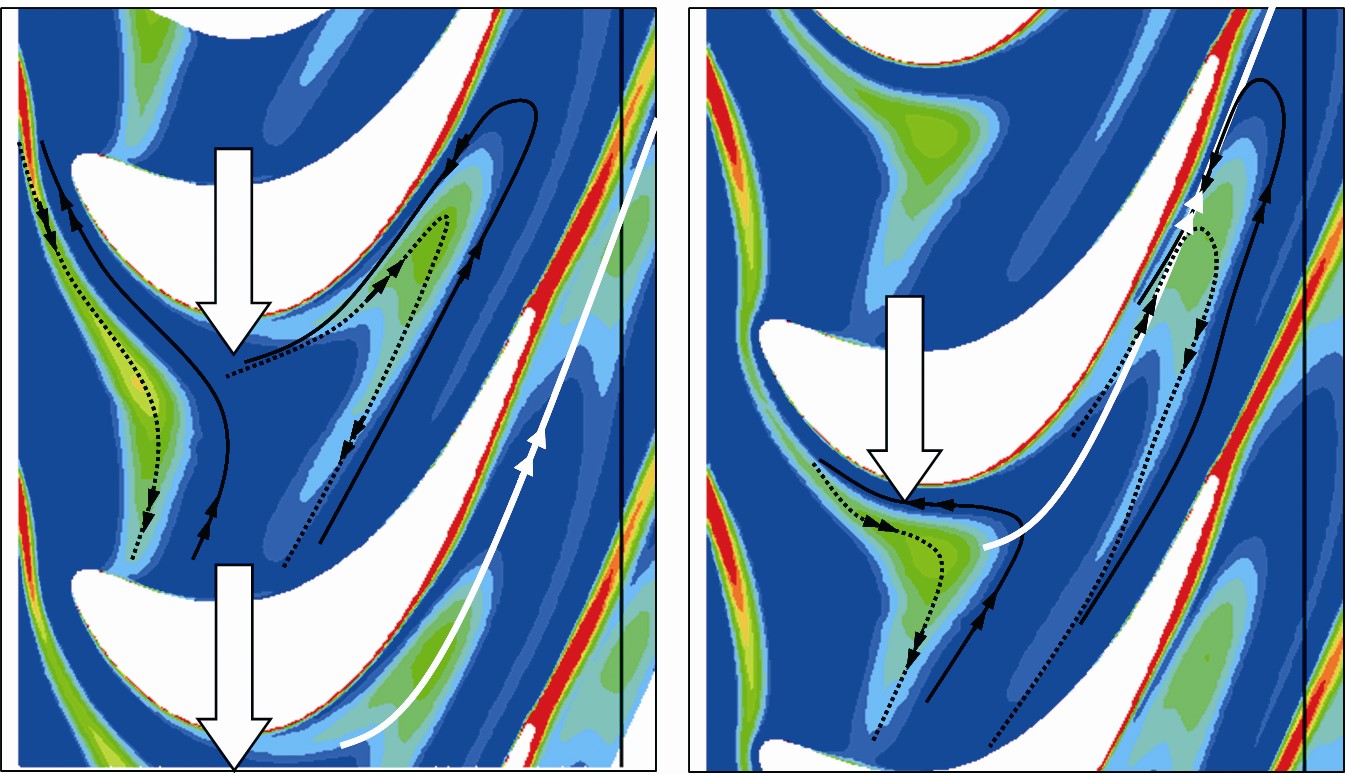 Schematic of the vortex-vortex interaction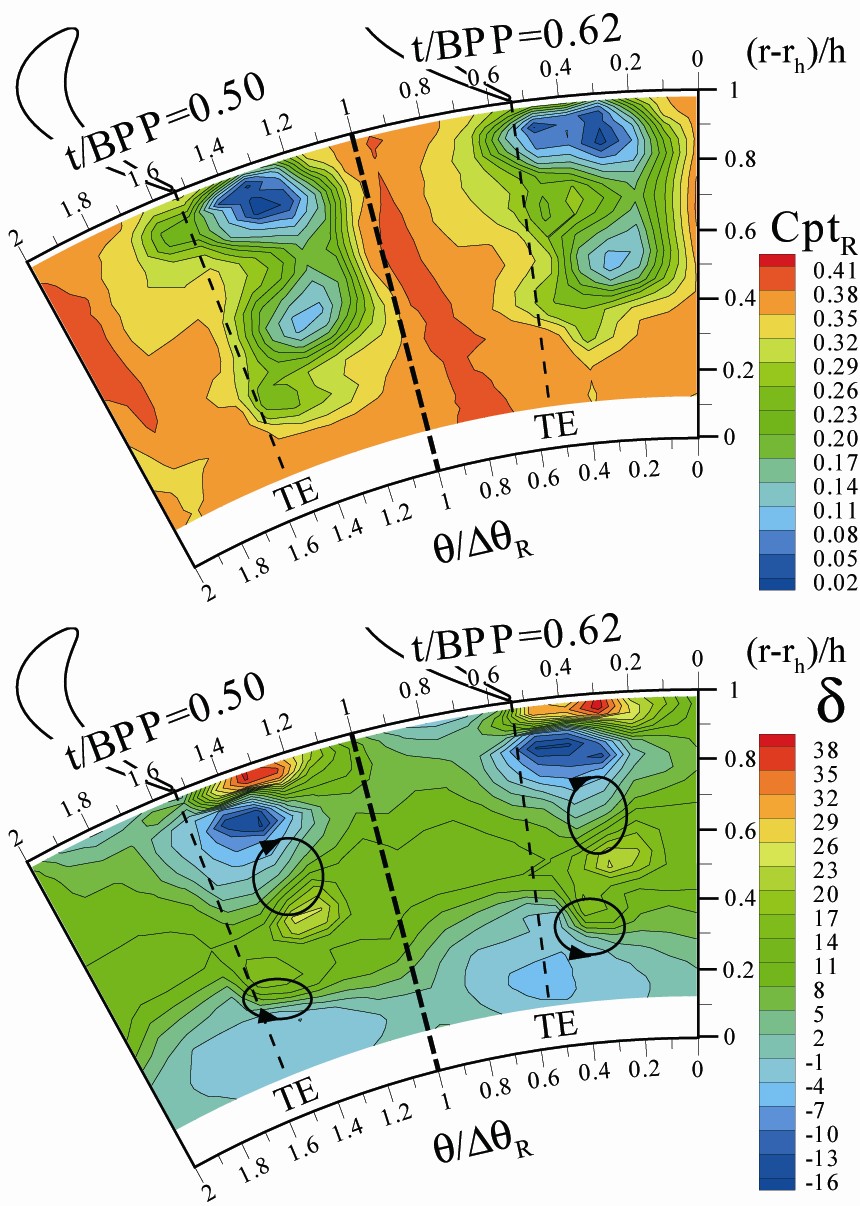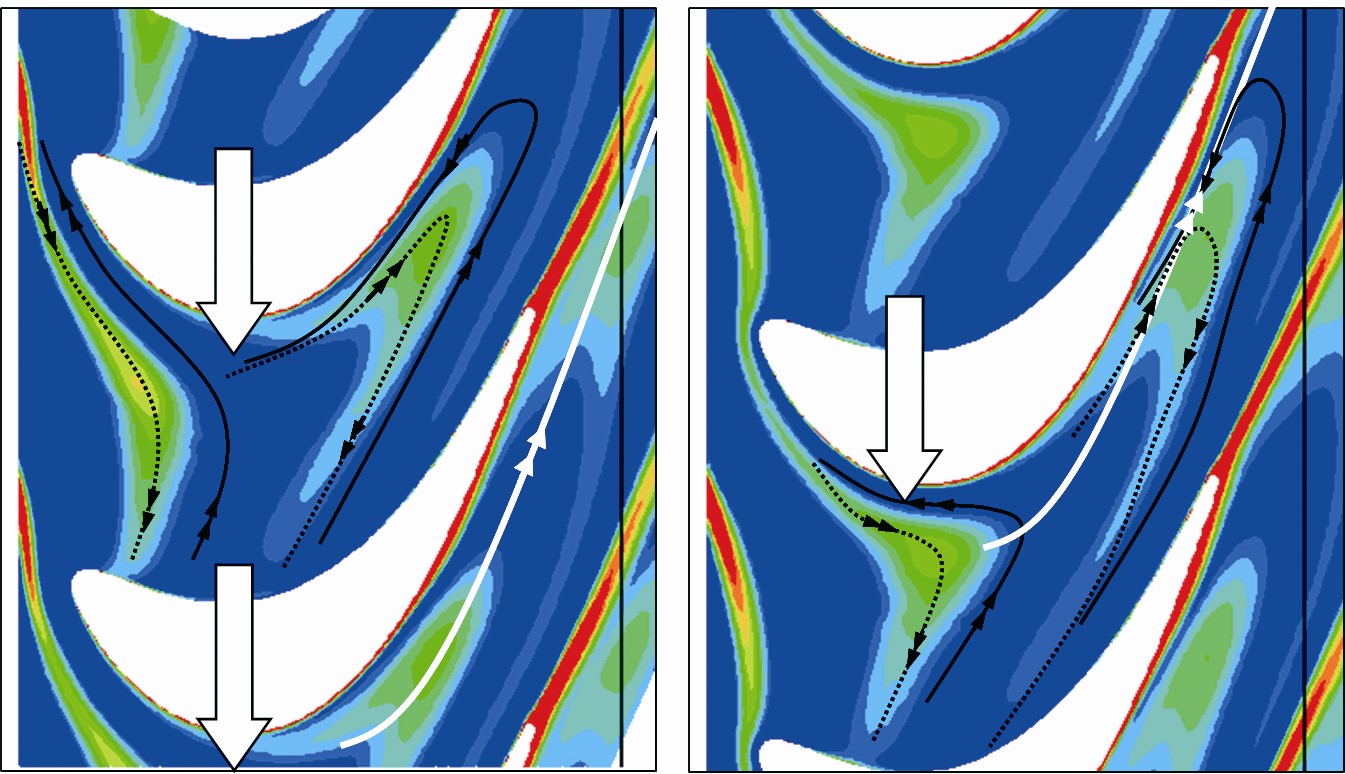 Current turbomachinery architectures result in reduced stator-rotor axial gaps, amplifying the unsteady coupling between the stationary and rotating components. In this context, a number of research programs were carried out and are currently ongoing at LFM about the blade row interaction in turbomachinery. In particular, the stator-rotor interaction in high pressure turbines and the impeller-diffuser coupling in centrifugal compressors have been studied; the research programs have been performed in both the closed-loop, high speed/low speed  test rigs of LFM.
The flexibility of the test high speed rig of the Politecnico di Milano has allowed to carry out a wide parametric study of the stator-rotor interaction in a high pressure turbine. In general, the interaction promoted by stator vortices with the rotor flow field represents the key-feature in these stages (see Fig. 1 , movie1).
The major research contribution on this topic has been the effect of axial gap on the rotor aerodynamics and performance. For different axial gaps the rotor incoming flow configuration changes, and, as a result, the rotor exit secondary flows are strongly dependent on the axial gap, as shown in Fig. 2 (Gaetani et al. 2007a - 2007b and Gaetani et al. 2010). Furthermore, due to the stator wake and potential field, the rotor incidence angle fluctuates causing unsteadiness in the blade loading and, eventually, in the rotor passage vortex. It can be demonstrated that an optimum gap exists, such that the incidence fluctuations are minimized (Gaetani et al., 2010). An optimum gap exists also in terms of performance (see Figure 3). A 1% gain of overall efficiency can be achieved by optimizing the axial gap (Gaetani et al. 2010).
The reduction of the rotor Rpm, beside increasing the rotor incidence and loading, strongly enhances the flow unsteadiness (Persico et al. 2009). When the stator is loaded, instead, the rotor-exit unsteadiness is not always enhanced but the character of the vortex-blade interaction changes, depending on the incidence effects on the vortices (Persico at al. 2009).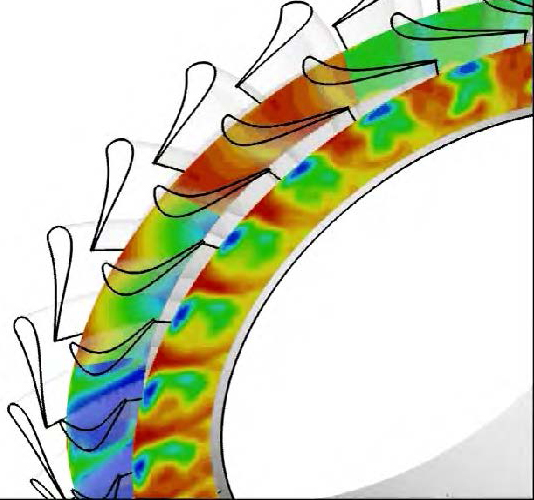 Phase resolved flow field downstream of the turbine rotor; RELATIVE TOTAL PRESSURE FIELD by FRAPP measurements

Time-mean flow in the relative frame. Experimental (top) – numerical (bottom)
P. Gaetani, G. Persico, V. Dossena, C. Osnaghi, "Investigation of the Flow Field in a High-Pressure Turbine Stage for Two Stator-Rotor Axial Gaps-Part II: Unsteady Flow Field", 2007, ASME Journal of Turbomachinery (ISSN 0889-504X), Vol. 129, Issue 3 (July), pp. 580-590.

P. Gaetani, G. Persico, V. Dossena, C. Osnaghi, "Investigation of the Flow Field in a High-Pressure Turbine Stage for Two Stator-Rotor Axial Gaps-Part I: Three-Dimensional Time-Averaged Flow Field", 2007, ASME Journal of Turbomachinery (ISSN 0889-504X), Vol. 129, Issue 3 (July), pp. 572-579

G. Persico, P. Gaetani, C. Osnaghi, "A parametric study of the blade row interaction in a high pressure turbine stage", 2009, ASME Journal of Turbomachinery (ISSN 0889-504X), Vol. 131, Issue 3 (July), 031006 (13 pages

P. Gaetani, G. Persico, C. Osnaghi, "Effects of Axial Gap on the Vane-Rotor Interaction in a Low Aspect Ratio Turbine Stage", 2010, accepted for publication in the AIAA Journal of Propulsion and Power (ISSN 0748-4658)

G. Persico, A. Mora, P. Gaetani, M. Savini, "Unsteady aerodynamics of a low aspect ratio turbine stage: modeling issues and flow physics", 2010, ASME Turbo Expo 2010, June 14-18, 2010, Glasgow, UK

V. Ballarini, S. Cioncolini, L. Toni, P. Gaetani, G. Persico, "Unsteady Flow Field Measurements in an Industrial Centrifugal Compressor", 2010, 39th Turbomachinery Symposium, October 4-7, 2010– Houston, Texas